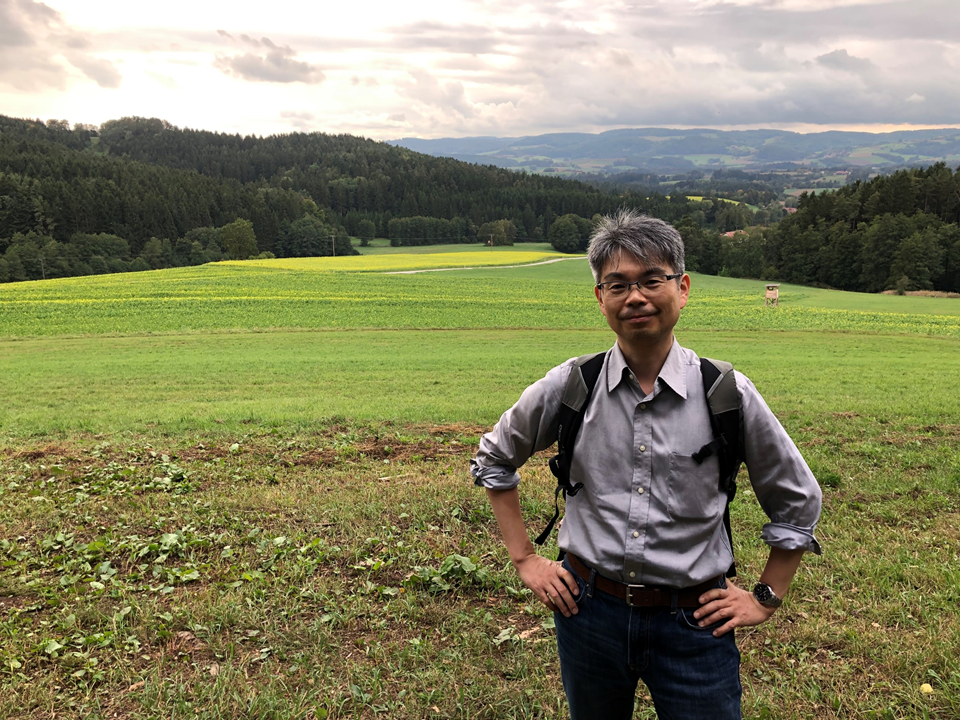 Yoshimasa TAKAHASHI (in Sattelbogen, Germany)

 Dr. Y. Takahashi received his B.S. from Kyoto University in 1997 (Faculty of Mechanical Engineering), and his M.S. from Kyoto University in 1999 (Department of Mechanical Engineering and Science). After his carrier as a corporate research engineer in HRL (Hitachi Research Laboratory), he started his doctoral course in 2004. He received his Ph.D from Kyoto University in 2007 (Department of Mechanical Engineering and Science). He then joined AIST (National Institute of Advanced Industrial Science and Technology, Japan) as a postdoctoral fellow. In 2011, he started his carrier as an assistant professor of Kansai University (Department of Mechanical Engineering). He was promoted to an associate professor in 2013 and a full professor in 2020. He stayed in FAU (Friedrich-Alexander Universität), Germany as a guest reseacher from 2019.9 to 2020.7. Prof. Takahashi has been invited by Nagoya University (IMaSS) as an associate professor (2019~2020), then as a professor (2021~).
 His academic research interest has been, in simple words, the strength of materials. He originally engaged in the study of small cracks in CFRPs (under the guidance of Profs. R. Ohtani and T. Kitamura in Kyoto University) during his M.S. course. As a research engineer in HRL, he engaged in the structural integrity of semiconductor device packages for harsh environmental use. His dissertation work (with Profs. T. Kitamura and H. Hirakata in Kyoto University) was targeted to reveal the applicability of the fracture mechanics criterion to sub-micrometer structures. He then extended his study field to cover metal fatigue/embrittlement (with Profs. H. Noguchi, K. Higashida and M. Tanaka in Kyushu University), particularly by leveraging his expertise in ion beam processing.
 As an independent researcher, he is currently engaged in three major study categories (⇒Research) based on his variety of experiences. He has collaborated with Nagoya University (Emeritus Prof. N. Tanaka, Profs. S. Muto and S. Arai) in the field of applied electron-microscopy. He has also collaborated with JEOL Ltd., Kobe Steel Ltd., Nippon Steel Corporation Ltd. and Chubu Electric Power Ltd. regarding micro-mechanical testing and the analyses of fatigue mechanisms under various conditions. He is a member of JSME (Japan Society of Mechanical Engineers), JSMS (The Society of Materials Science, Japan) and JSM (The Japan Society of Microscopy).
[Study keywords]
Strength of materials, Fracture mechanics, Fatigue, Hydrogen embrittlement, Creep, Thin films, Interfaces, Gain boundaries, Dislocations, Strain-aging, Aluminum alloys, Steels, Superalloys, Micro-components, Micro-mechanism, TEM, SEM, FIB, In-situ testing

[Publications]
Yoshimasa Takahashi, Kaname Kishimoto, Yusuke Morii, Shigeo Arai, Kimitaka Higuchi, Shunsuke Muto, Interfacial fracture initiation strength of micro-scale Si/Cu components with different geometries: applicability of the fracture mechanics criterion, Engineering Fracture Mechanics, Vol. 267, 2022, 108439.
https://doi.org/10.1016/j.engfracmech.2022.108439

Masanori Takuma, Tomohiro Sato, Ken-ichi Saitoh, Yoshimasa Takahashi, Yoshimasa Hirai, Study on damage evaluation of bimetal with the lead-free copper alloy (Life evaluation in bending fatigue test with AE method),Transactions of the JSME (in Japanese),Vol. 88,No. 908,2022,ID: 22-00019.
https://doi.org/10.1299/transjsme.22-00019

Ken-ichi Saitoh, Yoshihiro Takai, Tomohiro Sato, Masanori Takuma, Yoshimasa Takahashi, Optimization of LIB electrolyte and exploration of novel compounds by using molecular dynamics method, Batteries, Vol. 8, 2022, 27.
https://doi.org/10.3390/batteries8030027

Tomohiro Sato, Shuhei Ishikawa, Ken-ichi Saitoh, Masanori Takuma, Yoshimasa Takahashi, Evaluation of Sulfides as Solid Lubricant: Lubricity of Compounded Sulfides, Key Engineering Materials, Vol. 901, 2021, pp. 164–169.
https://doi.org/10.4028/www.scientific.net/KEM.901.164

Tomohiro Sato, Atsuto Kubota, Ken-ichi Saitoh, Masayoshi Fuji, Chika Takai, Hadi Sena, Masanori Takuma, Yoshimasa Takahashi,Molecular Dynamics Analysis on Silica Interface Modeled in Surface Grinding Process for Non-Firing Solidification,Journal of the Society of Materials Science, Japan,Vol. 71, No.2, 2022, pp. 167–174.
https://doi.org/10.2472/jsms.71.167

Daiki Kuribayashi, Tomohiro Sato, Ken-ichi Saitoh, Masanori Takuma, Yoshimasa Takahashi,Pseudo Generation of Metallographic Images and Verification of Superiority for Discrimination Problems -Applying Adversarial Generative Networks-,Journal of the Japan Society of Powder and Powder Metallurgy, Vol. 68, No. 8, 2021, pp. 317–323.
https://doi.org/10.2497/jjspm.68.317

Tomohiro Sato, Hiroki Asada, Ken–ichi Saitoh, Masanori Takuma, Yoshimasa Takahashi, Effects of Heat Treatment for Cu–Ni–Sn–S Alloys, Journal of Japan Institute of Copper, Vol. 60, No. 1, 2021, pp. 87–92.
https://doi.org/10.34562/jic.60.1_87

Tomohiro Sato, Akihiro Jingu, Ken-ichi Saitoh, Masanori Takuma, Yoshimasa Takahashi, Friction Properties of Sintered Al Bronze Containing Dispersed Sulfides, Transactions of Powder Metallurgy Association of India, Vol.45 No.2, December 2019, pp.39-50, 2021

Tomohiro Sato, Atsuto Kubota, Ken-ichi Saitoh, Masayoshi Fuji, Chika Takai, Hadi Sena, Masanori Takuma, Yoshimasa Takahashi, Molecular dynamics study on SiO2 interfaces of nonfiring solids, Journal of Nanomaterials, Vol. 2020, ID 8857101.
https://doi.org/10.1155/2020/8857101

Ken-ichi Saitoh, Tomohiro Sato, Masanori Takuma, Yoshimasa Takahashi, Molecular dynamics study of collagen fibrils: relation between mechanical properties and molecular chirality, Journal of Biomaterials and Nanobiotechnology, Vol. 11, 2020, pp.260-278.
https://doi.org/10.4236/jbnb.2020.114017

Yoshimasa Takahashi, Daisuke Kobayashi, Masaki Kashihara, Tomoyuki Kozawa, Shigeo Arai, Electron-microscopic analyses on high-temperature fatigue crack growth mechanism in a Ni-based single crystal superalloy, Materials Science & Engineering A, Vol. 793, 2020, 139821.
https://doi.org/10.1016/j.msea.2020.139821

Nobuo Tanaka, Takeshi Fujita, Yoshimasa Takahashi, Jun Yamasaki, Kazuyoshi Murata, Shigeo Arai, Progress in environmental high-voltage transmission electron microscopy for nanomaterials, Philosophical Transactions of the Royal Society A,RSTA20190602.
http://doi.org/10.1098/rsta.2019.0602

Ken-ichi Saitoh, Tomohiro Sato, Masanori Takuma, Yoshimasa Takahashi, Molecular dynamics study of collagen fibrils: relation between mechanical properties and molecular chirality, Journal of Biomaterials and Nanobiotechnology, Vol. 11, 2020, pp.260-278.
https://doi.org/10.4236/jbnb.2020.114017

Yoshimasa Takahashi, Ryosuke Kuriki, Jun Kurihara, Tomoyuki Kozawa, Takahiro Shikama, Hiroshi Noguchi, Distinct fatigue limit of a 6XXX series aluminum alloy in relation to crack tip strain-aging, Materials Science & Engineering A, Vol. 785, 2020, 139378.
https://doi.org/10.1016/j.msea.2020.139378

Taiki Yamada, Masahiro Ohtsuka, Yoshimasa Takahashi, Haruhiko Yoshino, Shin-ichi Amma, Shunsuke Muto, Measurement of nanoscale local stress distribution in phase-separated glass using scanning transmission electron microscopy-cathodoluminescence, Materialia, Vol. 9, 2020, 100578
https://doi.org/10.1016/j.mtla.2019.100578

Thanh Thuong Huynh, Motomichi Koyama, Yoshimasa Takahashi, Shigeru Hamada, Kaneaki Tsuzaki, Hiroshi Noguchi, Plastic deformation sequence and strain gradient characteristics of hydrogen-induced delayed crack propagation in single-crystal Fe-Si alloy, Scripta Materialia, Vol. 178, 2020, pp. 99-103.
https://doi.org/10.1016/j.scriptamat.2019.11.012

Keisuke Oosumi, Masanori Takuma, Kenichi Saitoh, Yoshimasa Takahashi, Tomohiro Sato, Ken Yamamoto, Study on evaluation of rail axial stress with ultrasonic wave method (Application of wavelet transform results), Transactions of the JSME Series A (in Japanese), Vol. 85, 2019, ID: 19-00206
https://doi.org/10.1299/transjsme.19-0020

Kentaro Takada, Ken-ichi Saitoh, Tomohiro Sato, Masanori Takuma, Yoshimasa Takahashi, Molecular dynamics study on transmission mechanism of torsional deformation in cellulose nanofibers with hierarchical structure, Soft Nanoscience Letters, Vol. 9, 2019, pp. 45-57
https://doi.org/10.4236/snl.2019.94004

Takashi Sumigawa, Shin Uegaki, Tetsuya Yukishita, Shigeo Arai, Yoshimasa Takahashi, Takayuki Kitamura, FE-SEM In Situ Observation of Damage Evolution in Tension-Compression Fatigue of Micro-sized Single-Crystal Copper, Materials Science & Engineering A, Vol. 764, 2019, 138218
https://doi.org/10.1016/j.msea.2019.138218

Syuhei Ishikawa, Tomohiro Sato, Ken-ichi Saitoh, Masanori Takuma, Yoshimasa Takahashi, Fundamental study on functionality of synthetic sulfides -Evaluation of metal sulfides as solid lubricant-, Jurnal Tribologi, Vol.20, 2019, pp. 26-38

Ken-ichi Saitoh, Kosuke Oda, Koki Yoshida, Masanori. Takuma, Yoshimasa Takahashi, Tomohiro Sato, Atomistic simulation of heavily plastic deformation of pearlitic steel: nano-sized processes of wiredrawing and indentation, IOP Conference Series: Materials Science Engineering Vol. 461, 2019, 012074
https://doi.org/10.1088/1757-899X/461/1/012074

Yukihiko Kimura, Yoshimasa Takahashi, Taizo Makino, Takanori Kato, Shigeo Arai, Microscopic analysis of non-propagating fatigue crack tips, International Journal of Fatigue, Vol. 125, 2019, pp. 122–127.
https://doi.org/10.1016/j.ijfatigue.2019.03.043

Ken-ichi Saitoh, Koki Yoshida, Kosuke Oda, Tomohiro Sato, Masanori Takuma, Yoshimasa Takahashi, Molecular dynamics study on nano-sized wiredrawing: possible atomistic process and application to pearlitic steel wire, IOP Conference Series: Materials Science Engineering Vol. 307, 2018, 012039
https://doi.org/10.1088/1757-899X/307/1/012039

Yoshimasa Takahashi, Ryosuke Kuriki, Masaki Kashihara, Takahiro Shikama, Hiroshi Noguchi, Emergence of distinct fatigue limit: impact of excess solute magnesium in 6061-T6 alloy, Procedia Structural Integrity, Vol. 13, 2018, pp. 1010–1013.
https://doi.org/10.1016/j.prostr.2018.12.188

Ken-ichi Saitoh, Kohei Kuramitsu, Tomohiro Sato, Masanori Takuma, Yoshimasa Takahashi, Molecular Dynamics Study on Deformation Mechanism of Grain Boundaries in Magnesium Crystal: Based on Coincidence Site Lattice Theory, Journal of Materials, Vol. 2018, Article ID 4153464
https://doi.org/10.1155/2018/4153464

Yoshimasa Takahashi, Itaru Ashida, Shigeo Arai, Kimitaka Higuchi, Yuta Yamamoto, Shunsuke Muto, Interfacial fracture strength evaluation of Cu/SiN micro-components: applicability of the linear fracture mechanics criterion under a hydrogen environment, International Journal of Fracture, Vol. 210, 2018, pp. 223–231.
https://doi.org/10.1007/s10704-018-0269-8

Yoshimasa Takahashi, Kosuke Inoue, Masanori Takuma, Kenichi Saitoh, Tomohiro Sato, Fracture mechanics criterion of time-dependent crack initiation from interface free-edge in adhesively bonded butt joints, Engineering Fracture Mechanics, Vol. 186, 2017, pp. 368–377.
https://doi.org/10.1016/j.engfracmech.2017.08.017

Yoshimasa Takahashi, Microscopic analyses of deformation structures around fatigue crack tips, JEOL news, Vol. 51, 2016, pp. 16–21.

Yoshimasa Takahashi, Kazuya Aihara, Itaru Ashida, Kimitaka Higuchi, Yuta Yamamoto, Shigeo Arai, Shunsuke Muto, Nobuo Tanaka, Evaluation of interfacial fracture strength in micro-components with different free-edge shape, Mechanical Engineering Journal, Vol. 3, No. 6, 2016, ID: 16-00108
https://doi.org/10.1299/mej.16-00108

Shigeo Arai, Yoshimasa Takahashi, Takefumi Amino, Kaname Yoshida, Yuta Yamamoto, Kimitaka Higuchi, Tsunehisa Yamamoto, Shunsuke Muto, Gaseous environmental in-situ observation by Reaction-Science High-Voltage Electron Microscope, Kinzoku (AGNE Gijutsu Center Inc.) (in Japanese), Vol. 86, 2016, No. 12, pp. 1085–1090.

Tomohiro Sato, Takehiro Muraoka, Kenichi Saitoh, Masanori Takuma, Yoshimasa Takahashi, Yoshimasa Hirai, Evaluation of radial crushing strength on Bronze sintered in vacuum atmosphere -effect of sulfide and tin-, Journal of the Japan Society of Powder and Powder Metallurgy (in Japanese), Vol. 63, No. 5, 2016, pp. 255–260.
https://doi.org/10.2497/jjspm.63.255

Masanori Takuma, Naoto Yamashita, Shigeru Matsuda, Yoshinori Asagoe, Yuu Hinohara, Keisuke Oosumi, Kenichi Saitoh, Yoshimasa Takahashi, Tomohiro Sato, Study on damage evaluation of magnesium alloy with acoustic emission method (Discrimination of {1012} and {1011} twin), Transactions of the JSME (in Japanese), Vol. 82, No. 839, 2016, ID: 16-00027
https://doi.org/10.1299/transjsme.16-00027

Yoshimasa Takahashi, Kazuya Aihara, Itaru Ashida, Masanori Takuma, Kenichi Saitoh, Tomohiro Sato, Kimitaka Higuchi, Yuta Yamamoto, Shigeo Arai, Shunsuke Muto, Interfacial fracture strength property of micro-scale SiN/Cu components, Procedia Structural Integrity, Vol. 2, 2016, pp. 1367–1374.

Yoshimasa Takahashi, Hikaru Kondo, Ryo Asano, Shigeo Arai, Kimitaka Higuchi, Yuta Yamamoto, Shunsuke Muto, Nobuo Tanaka, Direct evaluation of grain boundary hydrogen embrittlement: a micro-mechanical approach, Materials Science & Engineering A, Vol. 661, 2016, pp. 211–216.
https://doi.org/10.1016/j.msea.2016.03.035

Yoshimasa Takahashi, Hikaru Kondo, Kazuya Aihara, Masanori Takuma, Kenichi Saitoh, Shigeo Arai, Shunsuke Muto, Yuta Yamamoto, Kimitaka Higuchi, Nobuo Tanaka, Interfacial fracture strength of micro-scale Si/Cu components with different free-edge shape, Key Engineering Materials, Vol. 665, 2016, pp. 169–172.
https://doi.org/10.4028/www.scientific.net/KEM.665.169

Keisuke Oosumi, Shigeru Matsuda, Masanori Takuma, Kenichi Saitoh, Yoshimasa Takahashi, Yoshinori Asagoe, Naoto Nakanishi, Study on evaluation of damage for magnesium alloy with acoustic emission (Influences of heat history and corrosion), Transactions of the JSME (in Japanese), Vol. 81, No. 823, 2015, ID: 14-00541
https://doi.org/10.1299/transjsme.14-00541

Ken-ichi Saitoh, Tomohiro Sato, Masanori Takuma, Yoshimasa Takahashi, Ryuketsu Chin, Molecular dynamics study on lubrication mechanism in crystalline structure between copper and sulfur, Journal of Materials, Vol. 2015, Article ID 963257
https://doi.org/10.1155/2015/963257

Yoshimasa Takahashi, Takahiro Shikama, Ryota Nakamichi, Yuji Kawata, Naoki Kasagi, Hironari Nishioka, Syuzaburo Kita, Masanori Takuma, Hiroshi Noguchi, Effect of additional magnesium on mechanical and high-cycle fatigue properties of 6061–T6 alloy, Materials Science & Engineering A, Vol. 641, 2015, pp. 263–273.
https://doi.org/10.1016/j.msea.2015.06.051

Yoshimasa Takahashi, Shigeo Arai, Yuta Yamamoto, Kimitaka Higuchi, Hikaru Kondo, Yu Kitagawa, Shunsuke Muto, Nobuo Tanaka, Evaluation of interfacial fracture strength in micro-scale components combined with high-voltage environmental electron microscopy, Experimental Mechanics, Vol. 55, 2015, pp. 1047-1056.
https://doi.org/10.1007/s11340-015-0008-2

Yoshimasa Takahashi, Hiroaki Yoshitake, Ryota Nakamichi, Takuya Wada, Masanori Takuma, Takahiro Shikama, Hiroshi Noguchi, Fatigue limit investigation of 6061-T6 aluminium alloy in giga-cycle regime, Materials Science & Engineering A, Vol. 614, 2014, pp. 243-249.
https://doi.org/10.1016/j.msea.2014.07.039

Takahiro Shikama, Shinji Yoshihara, Yoshimasa Takahashi, Hiroshi Noguchi, Analysis of small fatigue crack in Al-Mg-Si Aluminum alloy, Materials Science Forum, Vols. 794-796, 2014, pp. 313-318.
https://doi.org/10.4028/www.scientific.net/MSF.794-796.313

Kenichi Saitoh, Yohei Sameshima, Masanori Takuma, Yoshimasa Takahashi, Atomistic simulation of crystal change and carbon diffusion during drawing of pearlitic steel nano-sized wire, Technische Mechanik, Vol. 34, 2014, pp. 222-232.
https://doi.org/10.24352/UB.OVGU-2017-064

Satoshi Iwata, Masanori Takuma, Kenichi Saitou, Junki Matsui, Yoshimasa Takahashi, Yuto Tsuzuki, Study on AE properties of A6061-T6 alloy for high-pressure hydrogen gas container during tensile and fatigue testing (Influence of grain size), Transactions of the JSME (in Japanese), Vol. 80, No. 818, 2014, SMM0292(No. 14-00198)
https://doi.org/10.1299/transjsme.2014smm0292

Toshinori Sasaki, Masanori Takuma, Kenichi Saitoh, Tomohiro Saato, Yoshimasa Hirai, Shinichi Sayama, Yoshimasa Takahashi, Study on damage evaluation of bimetal with lead-free copper alloy (Application of Acoustic Emission method), Transactions of the JSME (in Japanese), Vol. 80, No. 813, 2014, SMM0112
https://doi.org/10.1299/transjsme.2014smm0112

Masanori Takuma, Shigeyoshi Hisada, Kenichi Saitoh, Yoshimasa Takahashi, Yuuki Kobayashi, Akira Kadono, Atushi Murata, Satoshi Iwai and Toshinori Sasaki, Acoustic Emission Measurement by Fiber Bragg Grating Glued to Cylindrical Sensor Holder, Advances in Materials Science and Engineering, Vol. 2014, Article ID 274071.
https://doi.org/10.1155/2014/274071

Yoshimasa Takahashi, Hikaru Kondo, Hironobu Niimi, Takeshi Nokuo, Toshiaki Suzuki, Fracture strength analysis of single-crystalline silicon cantilevers processed by focused ion beam, Sensors & Actuators: A. Physical, Vol. 206, 2014, pp. 81–87.
https://doi.org/10.1016/j.sna.2013.11.037

Yoshimasa Takahashi, Hiroaki Yoshitake, Takahiro Shikama, Hiroshi Noguchi, Masanori Takuma, Giga-cycle property of a new age-hardened aluminium alloy containing excess solute magnesium, Key Engineering Materials, Vols. 577-578, 2014, pp. 293–296.
https://doi.org/10.4028/www.scientific.net/KEM.577-578.293

Junji Sakamoto, Yoshimasa Takahashi, Yuuta Aono, Hiroshi Noguchi, Method for assessing applicability of an artificial flaw as a small initial crack for fatigue limit evaluation and its application to a drill hole and an FIB processed sharp notch in annealed 0.45% carbon steel, Journal of Testing and Evaluation, Vol. 41, 2013, JTE20120176
https://doi.org/10.1520/JTE20120176

Yoshimasa Takahashi, Takahiro Shikama, Hiroshi Noguchi, Micro-analyses of small cracks in 6061-T6 aluminium alloy subjected to high-cycle fatigue, Key Engineering Materials, Vols. 525-526, 2013, pp. 213-216.
https://doi.org/10.4028/www.scientific.net/KEM.525-526.213

Lei Zeng, Takahiro Shikama, Yoshimasa Takahashi, Shinji Yoshihara, Tadashi Aiura, Hiroshi Noguchi, Fatigue limit of new precipitation-hardened aluminium alloy with distinct fatigue crack propagation limit, International Journal of Fatigue, Vol. 44, 2012, pp. 32–40.
https://doi.org/10.1016/j.ijfatigue.2012.06.001

Takahiro Shikama, Yoshimasa Takahashi, Lei Zeng, Shinji Yoshihara, Tadashi Aiura, Kenji Higashida, Hiroshi Noguchi, Distinct fatigue crack propagation limit of new precipitation-hardened aluminium alloy, Scripta Materialia, Vol. 67, 2012, pp. 49–52.
https://doi.org/10.1016/j.scriptamat.2012.03.018

Yoshimasa Takahashi, Takahiro Shikama, Shinji Yoshihara, Tadashi Aiura, Hiroshi Noguchi, Study on dominant mechanism of high-cycle fatigue life in 6061-T6 aluminum alloy through micro-analyses of microstructurally small cracks, Acta Materialia, Vol. 60, 2012, pp. 2554–2567.
https://doi.org/10.1016/j.actamat.2012.01.023

Junji Sakamoto, Yoshimasa Takahashi, Hiroshi Noguchi, Small fatigue crack growth behavior from artificial notch with focused ion beam in annealed 0.45% carbon steel, Key Engineering Materials, Vols. 488–489, 2012, pp. 319–322.
https://doi.org/10.4028/www.scientific.net/KEM.488-489.319

Toshiaki Suzuki, Yoshimasa Takahashi, Specimen Preparation Methods with FIB for In-Situ TEM Observations in Materials Science –TEM Specimen Preparation by FIB with Glass Manipulator–, Materia Japan (in Japanese), Vol. 51, 2012, No. 12, pp. 545–551.
https://doi.org/10.2320/materia.51.545

Masanori Takuma, Noboru Shinke, Yoshimasa Takahashi, Keishi Fujii, Naoto Yamashita, Study on evaluation of melting conditions of irradiation part by YAG laser (2nd report, relationships between features of AE signals and melting conditions by irradiation conditions), Transactions of the JSME (in Japanese), Vol. 77, 2011, pp. 1518–1526.
https://doi.org/10.1299/kikaia.77.1518

Hide-aki Nishikawa, Yasuji Oda, Yoshimasa Takahashi, Hiroshi Noguchi, Microscopic observation of the brittle-striation formation mechanism in low carbon steel fatigued in hydrogen gas (TEM and EBSD observation corresponding to fractography), Journal of Solid Mechanics and Materials Engineering, Vol. 5, 2011, pp. 179–190.
https://doi.org/10.1299/jmmp.5.179

Yoshimasa Takahashi, Junji Sakamoto, Masaki Tanaka, Kenji Higashida, Hiroshi Noguchi, Effect of hydrogen on dislocation structures around a mixed-mode fatigue crack tip in a single-crystalline iron-silicon alloy, Scripta Materialia, Vol. 64, 2011, pp. 721–724.
https://doi.org/10.1016/j.scriptamat.2010.12.032

Yoshimasa Takahashi, Keigo Yamaguchi, Masaki Tanaka, Kenji Higashida, Hiroshi Noguchi, On the micro-mechanism of hydrogen-assisted cracking in a single-crystalline iron-silicon alloy thin sheet, Scripta Materialia, Vol. 64, 2011, pp. 537–540.
https://doi.org/10.1016/j.scriptamat.2010.11.035

Yoshimasa Takahashi, Junji Sakamoto, Masaki Tanaka, Kenji Higashida, Hiroshi Noguchi, Characterization of dislocation structures around a mixed-mode fatigue crack tip in a single-crystalline iron-silicon alloy, Scripta Materialia, Vol. 64, 2011, pp. 157–160.
https://doi.org/10.1016/j.scriptamat.2010.09.033

Yoshimasa Takahashi, Masaki Tanaka, Kenji Higashida, Kazuhiro Yasuda, Sho Matsumura, Hiroshi Noguchi, A combined environmental straining specimen holder for high-voltage electron microscopy, Ultramicroscopy, Vol. 110, 2010, pp. 1420–1427.
https://doi.org/10.1016/j.ultramic.2010.07.011

Yoshimasa Takahashi, Hideaki Nishikawa, Yasuji Oda and Hiroshi Noguchi, Microscopic characterization of hydrogen-induced quasi-brittle fatigue fracture in low-strength carbon steel, Materials Letters, Vol. 64, 2010, pp. 2416–2419.
https://doi.org/10.1016/j.matlet.2010.08.019

Yoshimasa Takahashi, Junji Sakamoto, Masaki Tanaka, Kenji Higashida, Hiroshi Noguchi, TEM Analysis on the effect of hydrogen on cyclic deformation around an oblique fatigue crack tip in single-crystalline Fe-3.2wt.%Si alloy, Transactions of the JSME Series A (in Japanese), Vol. 76, 2010, No. 767, pp. 1002–1004.
https://doi.org/10.1299/kikaia.76.1002

Yoshimasa Takahashi, Junji Sakamoto, Masaki Tanaka, Kenji Higashida, Hiroshi Noguchi,TEM Observation of Cyclic Deformation around an Oblique Fatigue Crack Tip in Single-crystalline Fe-3.2wt.%Si Alloy, Transactions of the JSME A (in Japanese), Vol. 76, 2010, No. 762, pp. 251–253.
https://doi.org/10.1299/kikaia.76.251

Yoshimasa Takahashi, Masaki Tanaka, Kenji Higashida, Keigo Yamaguchi, Hiroshi Noguchi, An intrinsic effect of hydrogen on cyclic slip deformation around a {110} fatigue crack in Fe-3.2 wt.% Si alloy, Acta Materialia, Vol. 58, 2010, pp. 1972–1981.
https://doi.org/10.1016/j.actamat.2009.11.040

Yoshimasa Takahashi, Masaki Tanaka, Kenji Higashida, Keigo Yamaguchi, Hiroshi Noguchi, HVEM Analysis of Slip Behavior around a Fatigue Crack Tip, Materia Japan (in Japanese), Vol. 48, No. 12, 2009, p. 609.
https://doi.org/10.2320/materia.48.609

Yoshimasa Takahashi, Masaki Tanaka, Kenji Higashida, Hiroshi Noguchi, Effect of hydrogen on microscopic deformation process near Stage II fatigue crack tip, Effects of Hydrogen on Materials, B. Somerday, P. Sofronis, R. Jones eds, ASM International, OH, 2009, pp. 203–210.

Yoshimasa Takahashi, Masaki Tanaka, Kenji Higashida, Keigo Yamaguchi, Hiroshi Noguchi, Effect of Gaseous Hydrogen on Cyclic Slip Behavior Around a Fatigue Crack Tip in Fe-3.2wt.%Si Single-Crystalline Alloy, Transactions of the JSME Series A (in Japanese), Vol. 75, 2009, pp. 1082–1089.
https://doi.org/10.1299/kikaia.75.1082

Yoshimasa Takahashi, Masaki Tanaka, Kenji Higashida, Hiroshi Noguchi, Hydrogen-induced slip localization around a quasi-brittle fatigue crack observed by high-voltage electron microscopy, Scripta Materialia, Vol. 61, 2009, pp. 145–148.
https://doi.org/10.1016/j.scriptamat.2009.03.020

Yoshimasa Takahashi, Masaki Tanaka, Kenji Higashida, Hiroshi Noguchi, High-voltage electron-microscopic observation of cyclic slip behavior around a fatigue crack tip in an iron alloy, Scripta Materialia, Vol. 60, 2009, pp. 717–720.
https://doi.org/10.1016/j.scriptamat.2009.01.002

Hiroyuki Hirakata, Toshihiro Hirako, Yoshimasa Takahashi, Yasunori Matsuoka, Takayuki Kitamura, Creep crack initiation at a free edge of an interface between submicron thick elements, Engineering Fracture Mechanics, Vol. 75, 2008, pp. 2907–2920.
https://doi.org/10.1016/j.engfracmech.2008.01.007

Yoshimasa Takahashi, Hiroyuki Hirakata, Takayuki Kitamura, Quantitative evaluation of plasticity of a ductile nano-component, Thin Solid Films, Vol. 516, 2008, pp. 1925–1930.
https://doi.org/10.1016/j.tsf.2007.08.062

Yoshimasa Takahashi, Hiroyuki Hirakata, Takayuki Kitamura, Experimental evaluation of plastic property of a low-dimensional Cu nano-component, Materials Science Forum, Vols. 567-568, 2008, pp. 297–300.
https://doi.org/10.4028/www.scientific.net/MSF.567-568.297

Takayuki Kitamura, Hiroyuki Hirakata, Yoshimasa Takahashi, Interface Strength of Low-dimensional Nano-Components, Key Engineering Materials, Vols. 353-358, 2007, pp. 1–8.
https://doi.org/10.4028/www.scientific.net/KEM.353-358.1

Hiroyuki Hirakata, Yoshimasa Takahashi, Takayuki Kitamura, Role of plasticity on interface crack initiation from a free edge and propagation in a nano-component, International Journal of Fracture, Vol. 145, 2007, pp. 261–271.
https://doi.org/10.1007/s10704-007-9079-0

Hiroyuki Hirakata, Yoshimasa Takahashi, Koji Shinmi, Do Van Truong, Takayuki Kitamura, Development of in situ TEM experiment of crack initiation at interface edge in nano-structures (in Japanese), Journal of the Society of Materials Science, Japan, Vol. 55 (No. 12),2006,pp. 1073–1080.
https://doi.org/10.2472/jsms.55.1073

Hiroyuki Hirakata, Yoshimasa Takahashi, Shohei Matsumoto, Takayuki Kitamura, Dominant stress region for crack initiation at interface edge of microdot on a substrate, Engineering Fracture Mechanics, Vol. 73, 2006, pp. 2698–2709.
https://doi.org/10.1016/j.engfracmech.2006.04.019



[Awards]
JSME outstanding paper award, 19/4/2013
JSMS academic encouragement award for young scientist, 25/5/2011
JSMS outstanding paper award, 19/5/2007
JSMS best presentation award at the 54th period annual academic congress, 27/5/2005

[Patents]
United States Patent No. 7579805
United States Patent No. 7075201
Japan Patent No. 4383278
Japan Patent No. 4161737
Japan Patent No. 4147987
Japan Patent No. 4023336
Japan Patent No. 4000976